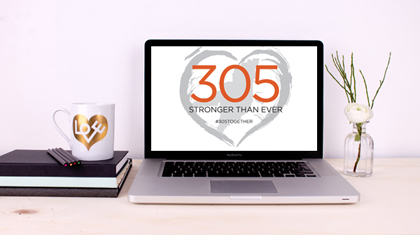 Dear Friends
Things are looking bright for everybody this week, don't you think? Since yesterday, our beloved city has entered phase 1 of what I hope can be a financial reactivation that will flow with normality, with the participation and support of those of us who live here on a regular basis.
We are emerging from a severe lockdown, taking tentative steps into the unknown. We might be a little scared to do so, yes, but we're also filled with hope.
It's been over two months since Miami was put on pause and I have been thinking about you a lot in these past few weeks. Things have not only shifted, but they've also changed. New phrases that never even crossed our minds like "Stay at Home", "Flatten the Curve", "New Normal", "Tiger King" have all brought new meaning to our lives, not only here in Miami, but across the world.
Other phrases I've been hearing a lot are "I miss going out with my friends", "when are going back to normal?", "I need to get my nails done", "I need a haircut", and all of those coming from the people I love and even from myself. We are definitely getting stronger as the days go by.
Now, it's time to prove ourselves, not only how responsible and solidary we can be while reopening, supporting local businesses, providing help to anyone in need and following the rules with respect, but also to be thankful about what has allowed us to keep ourselves strong during these difficult days.
It's time to reopen and be thankful for
These last few days have allowed me to step back and think about what makes me feel grateful. I have been using an app called gratitude, which allows me to write my gratitude every day. These are the top five things I have been most grateful for, as I live in this "new world":
1. My Home. I live in a two-story property, where I have a back patio which allows me to sit outside, have my morning coffee after my yoga classes or my morning walk. I created a space to work from home with a direct view to the golf course, which brings me joy, energy and a sense of optimism.
2. My Friends. I always knew how important friends are but having them calling me to check on me and make sure I am well is great. Living by myself might be difficult during these times, but knowing I have such a great support and caring ecosystem helps me feel like I am not alone at all.
3. My Community. Grateful for (Bonjour, Kow Restaurant, Red Bull and Hierro Light) for helping me donate lunch to the Westchester General Hospital. To see and feel the kind of support everyone is giving each other has brought my spirit to a higher level and has made me want to do more for those in my world.
4. My Business. While working from home, me and my team are still working hard for those who are active in their sales, going into contract and closing, since people still need homes. Furthermore, I've been thinking a lot about our current and past clients over the years, what we have been able to accomplish together, and the kind of future that we are part of and/or have been building. It's been an honor and we feel blessed. Thank you for your trust, the opportunities, and for letting us be a part of your growing lives.
5. My Glamour Squad All of them have been doing their best to do my hair, do my nails, deliver my meals, clean my house, etc. I am a true believer that when you feel good you perform good. Surrounding myself with those who care about me and help me go through this unprecedented time, is totally a blessing.
What are you most grateful for these days?
Tell me, I would love to hear from you!

Now, it's time to see the creativity and resourcefulness of our city's job creators on full display, as we return to work safely, responsibly, and maybe a little financially battered, but never beaten.
This is the way we can return stronger: I protect you, you protect me. Let's do this together!

With love,
Luz